Technology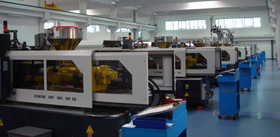 Main product line:
Technical and precision injection molded parts and assemblies up to 800g shot weight and up to 3 different co-injected materials per part (with or without metal inserts) on CNC controlled machines from 350 up to 3500kN in 3 shifts, 24h per day.
The complete molding eXPerience:
Injection molding parts in mono as well as two and three components (co-injection, over molding) from many varieties and combinations of thermoplastic commodity resins, engineering grade resins (filled and unfilled) and elastomeric materials (TPE/TPU) etc.
Materials:PP/PS/ABS/POM/PVC/TPE/TPU/PA/CA/PBT/ESD compounds to name a few
Injection molds, construction and building including hot runner molds as well as two and three shot co-injection molds, insert molds etc.
CAD/CAM including 3D volume design, 2D drafting and fast prototyping.
Test runs with protocols using state-of-the-art CMM and force-less optical measurement systems.
Secondary operations like pad, offset and silk-screen printing, assembly, custom packing, labeling...
Logistic solutions to bring products to the customer JIT at low cost - worldwide
Metal parts with or without over molding up to three thermoplastic materials
Assembly & Testing of various self produced and procured parts