Mould making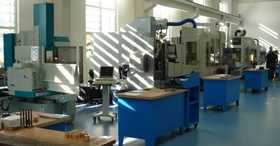 In house tooling capabilities allow us to provide our clients with cost effective & quicker lead times on new tooling, tool modifications, secondary fixtures & checking gauges. Tooling and mold making expertise include engineering support and design recommendations, rapid prototyping, low volume and high volume tooling as well as various aluminum and steel grade tooling selections.
Our Staff of Designers, Engineers and Tool Makers have a comprehensive combined experience with backgrounds in a wide spectrum of tooling applications.
Products
Plastic injection molds (cold and hot runner)
insert molds
2 shot molds
3 shot molds
trim dies
stamping dies
Gauges & Fixtures...
Some of the many standard processes
Design & Construction
Tooling Design
Fixture Design
Unigaphics® & SolidWorks® 3D CAD/CAM
AutoCAD® 2D Drafting
CNC Programming 5-axis
Manufacturing
CNC Machining 4-axis
CNC EDM
Conventional EDM
Conventional Milling
Boring Mill
Turning
Grinding
Polishing
Engraving ...