Hand tools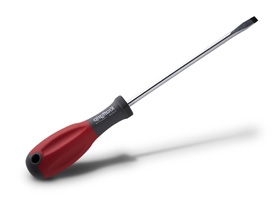 Kraftgrip®
With more than 40 years of experience Oplast is one of the global leaders in manufacturing professional screwdriving tools under own brand Kraftgrip as well as custom brands. The reasons are simple. Oplast has earned this position by focusing closely on the professional user and exceeding high expectations. At every point Oplast has maximized performance using premium components and materials for it's products. Each Kraftgrip® product is supported by this philosophy - in the use of top quality components, state of the art manufacturing and innovative design that maximizes comfort and ease of use. Its standards of service and support are equally far-reaching: all Kraftgrip® products are backed by unlimited warranty against manufacturing failures - including top-level technical assistance.
Our comprehensive range of screwdrivers, hex-keys, nut-drivers and bits/accessories for power drivers for all common screw systems makes it easy to choose the product that best fit your needs - helping saving you time and money.
Oplast also provides tailor-made solutions for OEM customers from custom design, 3D modeling, prototyping, in-house moldmaking up to custom designed packaging and worldwide delivery of finished products for all kinds of hand tools and handles – complete solution provider!
Designed and manufactured to surpass your needs, Kraftgrip® products have the power to deliver more.

The ultimate tools for professionals!