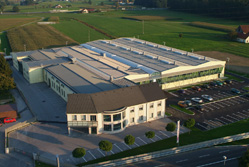 Oplast® is a custom plastic injection molding and mold making company committed to offering the industry broadest range of injection molding and supporting services with over 40 years tradition.
In addition to that, we operate a metal working plant with following technologies in-house: stamping, up to 6 axes turning, grinding, milling, profilating, swaging, hardening, sand-blasting and plating (black oxide, zinc, nickel as well as satin and bright chrome plating).
Our sister company Tampo specializes in various decorating services like pad, silk-screen or offset printing as well as plain or fully decorated custom blow molded plastic containers.
One of our key advantages is combination of in-house produced metal parts combined with up to three component overmoulding, finished with various assembly and decorating possibilities (chrome plating, lacquering…).
Need we say turnkey projects from initial idea to prototypes, in-house made injection moulds to finished product are our speciality?
Oplast® is committed to providing top quality of products and services to our customers. All our facilities are ISO 9001, ISO14001 and IATF 16949 (automotive) certified.
Oplast® provides a broad range of primary and secondary operations to its customers so they can get a complete turnkey project done fast, efficiently and at competitive cost.
Oplast® is also committed to preserving our environment and has therefore worked hard to be one of the first manufacturers in our field to have registered all manufacturing plants according to ISO14001 standard over a decade ago.